The block booking feature in the system allows fitness providers to book their clients into multiple sessions at once, making it a convenient tool for managing multiple bookings. The feature is useful for those who need to schedule sessions for their
How to Block Book Clients into Sessions?
Step 1: Selecting the class
Go to the timetable and select the class/session that you want to block book your client into and make sure it is recurring and not a single session.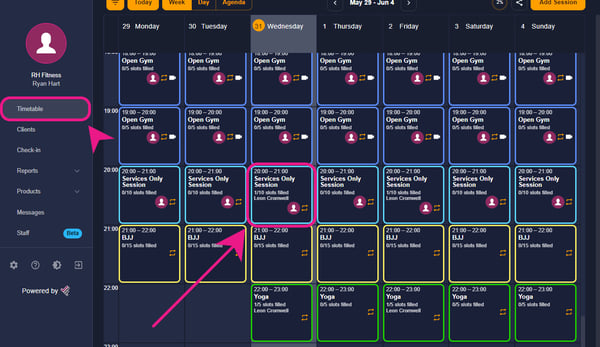 There is a recurring icon 🔁 on the sessions/classes that are recurred so make sure to check it first.


Step 2: Adding a client to the session
After selecting/clicking on the class a side window will appear with session details on it, In that window, you'll see the "Add contact" icon, click on it.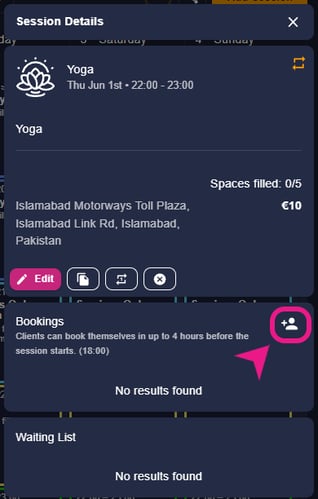 After that, a new window will pop up. In that window put the name of your client in the first box.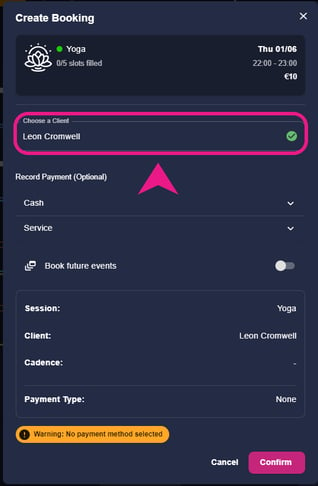 Step 3: Block booking your client
After selecting your client, select the membership/package that you want to book them with, toggle on "Book future events", select those days on which you want your clients to be booked, and then choose the end date.
For example, if you select Monday and Wednesday and choose the end date of 31 Jan 2025 then your client will be booked every week on Monday and Wednesday until 31 Jan 2025.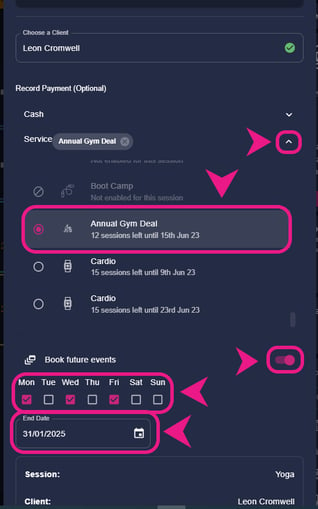 After that just scroll down and click on confirm at the bottom of the window.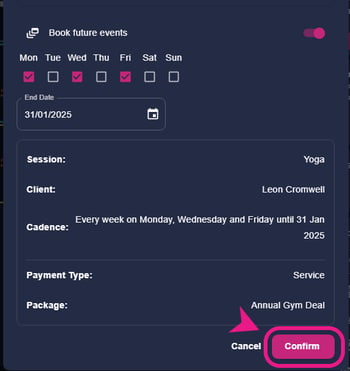 After that, it will show you the name and dates of the sessions and the status of their bookings to show if they are successfully booked into that class or not.